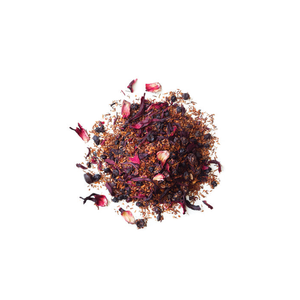 This Rishi original highlights the robust flavor of rooibos with fruity notes of elderberries, blueberries and hibiscus to create a tart yet sweet herbal blend. Schisandra berries add a layer of aromatic complexity with wild floral notes and cranberry-like tartness.
Tasting Notes: A succulent rooibos blend with sweet blueberries and revitalizing schisandra berries
Ingredients:
Organic rooibos, organic elderberries, organic hibiscus flowers, organic currants, organic blueberries, natural blueberry flavor, organic schisandra berries, natural strawberry flavor
Brew with Rishi Loose Leaf Tea Sachet Filters or Rishi Simple Brew Loose Leaf Teapot (400 mL).