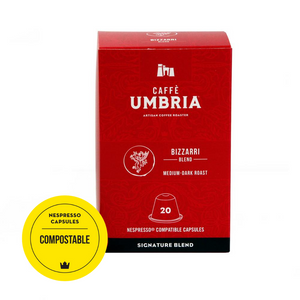 Our Caffè Umbria capsules are compatible with and can be used in OriginalLine Nespresso® machines. (Not compatible with VertuoLine).
Capsules are now compostable!
Certified by Biodegradable Products Institute.
Bizzarri Blend - Medium Dark Roast

Our signature blend is a celebration of our blending expertise. Crafted to pair uniquely with the sweet characteristics of milk and cream, it has a resonant body and deep fruity acidity.