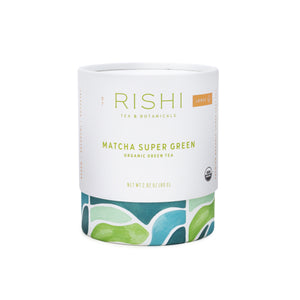 Matcha Super Green is named for its vivid emerald green infusion and bountiful natural energy provided by pure Japanese matcha. This signature Rishi flavor combines organic sencha and organic stone-ground matcha green teas grown in the fertile volcanic soils in southern Japan's Kyushu region.
Tasting Notes: Rishi's greenest green, with vibrantly fresh matcha and deeply sweet sencha.
Ingredients:
Organic sencha green tea, organic matcha.